multimedia installation by manu luksch, 2017

From sand to glass to silicon – the United Arab Emirates adumbrates a fantasy frontier of algorithmic dreams, of smart cities and a frictionless economy servicing peak experience. It is believed that the Emirates rose from the desert almost fully formed, weightless, its super tall buildings limning the height of our desires.
The video uses techniques of computational photography to capture the headquarters of Masdar, Abu Dhabi's global showcase for urban smart technology and soft architecture. An evolving 3D future is extrapolated from a mass of ordinary photographs, reflecting the way that our destinies are predicted and constructed through the extraction and analysis of mass personal data.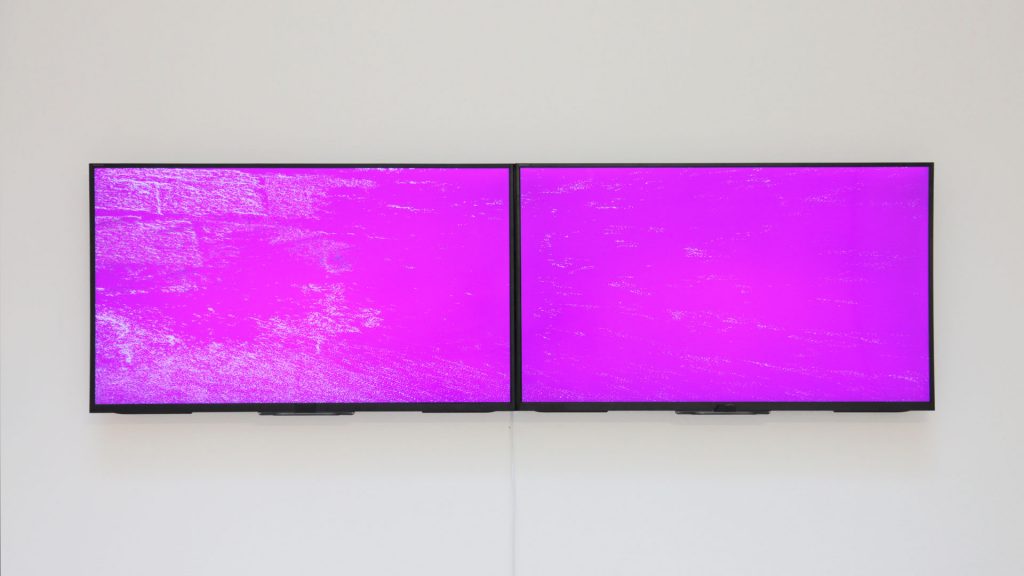 at the data loam exhibition the video was shown as a double screen presentation. photo by marina rebhandl
From the shifting sands of the Emirati Desert also arises a portrait of Ahmed Mansoor. As vulnerable as Mansoor himself – currently a prisoner of conscience – the picture calls for global attention, and for the protection of human rights to be a prerequisite for trade deals.
exhibition view – in the foreground the sand portrait of Ahmed Mansoor on red cloth. photo by Ulrich dertschei
in may 2016, manu luksch travelled to the united arab emirates (uae) to research regional 'smart city' initiatives and to interview renowned social media activist ahmed mansoor al shehhi (أحمد منصور الشحي). mansoor received the 2015 martin ennals award for human rights defenders for his committed support of the many 'disappeared' dissidents in the uae. he has been dubbed 'the last emirati human rights activist', and 'the million dollar dissident' (after what it cost the uae to crack mansoor's iphone). in 2017, mansoor was arrested and sentenced to 10 years' imprisonment, for his online activities of (allegedly) 'promoting false and shaded information' and 'serving agendas aimed at spreading hatred and sectarianism'. in reality, an absolute monarchy effectively silenced a persistent and persuasive critic. or so they thought…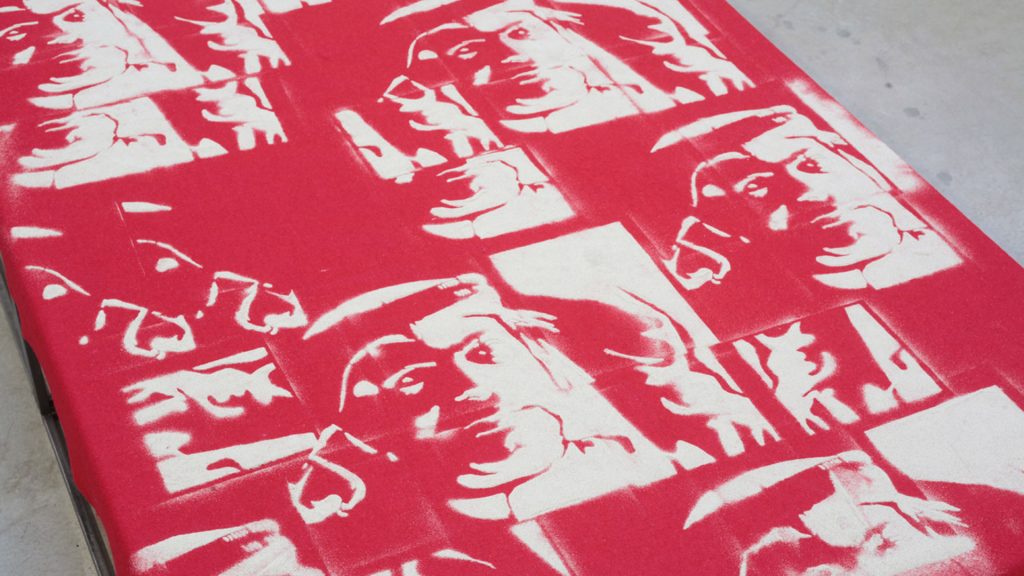 detail of Ahmed Mansoor's sand portrait. photo by Ulrich dertschei
video still by manu luksch
⇌ www.manuluksch.com